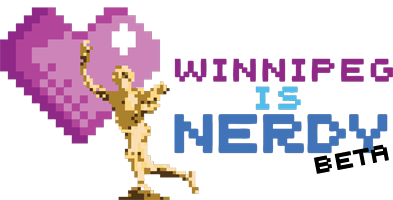 So long, everyone.
Winnipeg is Nerdy was started as a fun side project to do two things: inform Winnipeg's nerds and geeks of great goings-on, and to get me doing something positive for the local community I loved so much with the media and web skills I had.
I saw a lot of great stuff in this city go under the radar just because people weren't in the right social circle or they didn't go to one particular local shop with a poster up. Well, that just wouldn't do! I wanted to have a unified place where people could keep track of what was going on and get the inside scoop.
It went great for a while, and it did some great things: handing out buttons, chatting in interviews, a Pecha Kucha talk, and making connections with people and what they loved.
Unfortunately, there are just too many amazing things happening in Winnipeg's nerdy community for one little site to keep up with. On top of that, I hit a few snags with health and family that kept me out of the community for which I was trying to create. So I started posting more slowly, and then not at all. It's unfortunate, but life moves on.
Special thanks to Kyle Rudge for wanting to be a part of the project. He's since moved on to Geekdom House, which you should totally check out if you're interested.
I'll be keeping the Facebook page going to promote the occassional event (because why not? You folks are still awesome!), but for the most part, Winnipeg is Nerdy as a project is now closed.
It's been a lot of fun. So thanks, everyone, and keep being nerdy.
Jamie Isfeld,
Reporter, Winnipeg is Nerdy